All

Raise

Boston

Chapter:

Agents

of

Change

2023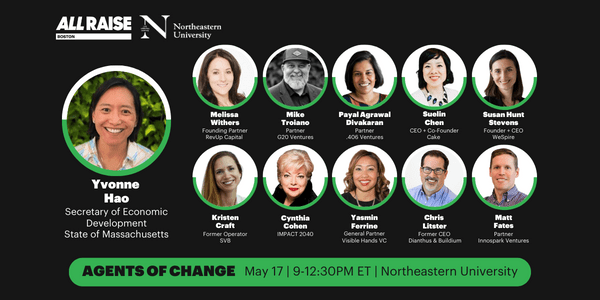 The All Raise Boston Chapter is excited to host our 2nd Annual "Agents of Change" event on May 17th at Northeastern University where female and non binary founders can network and learn from some of Boston's biggest mentors and influencers!  
Kicking off the day, we will be joined by Paige Hendrix Buckner, the newly appointed Interim CEO, who wants to know, "What is happening in Boston that makes our All Raise community so strong and vibrant?" We need YOU to help tell that story!  In this half-day event, you'll receive direct mentorship along with other founders, and you will have the chance to brainstorm about the challenges of starting your own business: raising capital in challenging times, recruiting talent, work-life balance, and more. 
The Fall event was a hit! Founders loved the format of gathering as a large audience and then breaking up into smaller discussion groups to really dig in to solutions for accelerating their businesses. If you missed it, here is a short recap video from the October event. 
Discussion topics include:  1. Raising capital in challenging times 2. Finding advisors and getting help 3. Time management 4. Marketing / lead gen hacks 5. Work life balance - health 6. Recruiting talent 7. Student entrepreneurship 8. Open the black box of VC
We hope to see you on May 17th!
Location:

Northeastern University Campus, East Village Residence Hall - 17th Floor, 291 St Botolph St, Boston., MA

When:

May 17th

9:00 AM - 12:30 PM EST

Topics: